FRP Hijacker tool is a free utility software created by Gsm Hagard that is specifically designed to bypass the FRP lock on Samsung Galaxy phones in a matter of minutes and requires a few clicks. It is possible to remove the Factory Reset Protection (FRP) from your Samsung smartphone with the aid of the FRP Hijacker application. May also reset pin and pattern lock with the use of this Tool. To take control of your Samsung phone, follow these easy steps and download the latest Samsung FRP Hijacker Tool.
What is the FRP Hijacker Tool?
GSM haggard has created a little utility tool called FRP Hijacker. In addition to being solely accessible for all Windows operating system platforms, it also unlocks the FRP Lock on all Samsung Galaxy phones in various methods. In modern Android phones, FRP is a security feature that has been included in modern Android phones. Due to this feature, after doing a factory reset on Samsung Galaxy phones, you will be prompted to sign in using your previous Google ID and password. If you forget your password or Google ID, FRP Hijacker will be pretty beneficial to you.
FRP Hijacker Features
If you have a Samsung phone that has received an FRP Google account verification message, using one of these FRP tools is the most effective approach to removing the FRP lock.

Bypass FRP lock:

It is possible to delete or bypass the FRP in download mode (also known as Odin mode) without using any FRP or Combination files using the Samsung FRP Hijacker 2021.

Soft brick Fixer:

With the Samsung FRP Hijacker program, you can efficiently conduct ADB operations on any Samsung device. If you activate USB debugging mode on your Samsung phone, you will be able to overcome FRP and perform a factory reset using the ADB command.

Samsung Phones Supports:

The FRP Hijacker tool is compatible with all Samsung Galaxy smartphones, including those powered by Exynos and Snapdragon processors and Android devices.

Bypass FRP using Dialer:

In addition to defeating FRP lock using Download Mode and ADB mode, the program also circumvents FRP lock through a Phone Dialer feature. It's as simple as selecting the dialer area and entering any number, then clicking on Dial.
To summarize, this Tool's characteristics are as follows: But there are a few more significant new features for all Samsung Galaxy devices. Read More: Easy Samsung FRP Tool
Download FRP Hijacker v1.0 Tool
The FRP Hijacker is in a zip file which must extract from the zip file. You will obtain the final setup file after removing the Tool (.exe). open the SamFirm Tool on your PC by running the Setup file (.exe)
You can download the FRP Hijacker v1.0 version. Click on the server of your choice to pick up and download the Tool.  Below are three buttons to download the FRP Hijacker v1.0.
.
File Name: FRP_HIJACKER_v1.0.zip
Tool Size: 1.2MB
Operating System: Windows
How to use: Follow Tutorial 


How to Download:

See Example
FRP hijacker can be run on that device
 May install the tool on your Desktops or laptops once they have been downloaded. The following is a list of the devices on which you may use the FRP Hijacker software.

Supported Platform:

1. Windows XP
2. Windows 7

3.

Windows 8

4.

Windows 10

5.

Windows 11
If you have one of the aforementioned operating systems installed on your computer, you can execute it. The instructions for using the FRP Hijacker tool to overcome Samsung's FRP lock are provided below. Before installing the device, you must complete the following tasks.
Below We are also sharing a step-by-step guide to install the Tool and use it.
If you have forgotten your last active Google credentials and your device is stopped at Google verification, you will need to bypass the FRP lock to get access to it. As a result, carefully follow these instructions on how to bypass FRP using the FRP Hijacker v1.0.
How to Install FRP Hijacker Tool
1. Take a look at the download section above for the Samsung FRP Hijacker v1.0.
2. Before installing Samsung FRP Hijacker 2021, you must first download and install Net Framework 4.5.2 Download.
3. Start the Hijacker Tool configuration.
4. During setup, it will request a password.
5. Use the URL www.gsmhagard.com as the password.
Once the installation is complete, you may use the Samsung FRP Hijacker Tool to circumvent the FRP lock.
How to use FRP Hijacker Tool
We've also included a tutorial on utilizing the FRP hijacker program on your Samsung smartphone to bypass the FRP lock for your convenience.
1. Open the Tool as soon as the installation procedure is complete.
2. The main menu will appear, as seen below: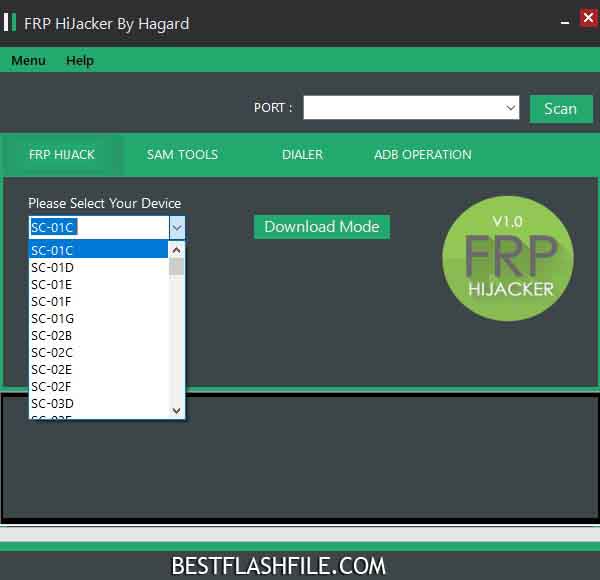 3. You must pick the device model from the drop-down list displayed in the picture.
4. Then, using a USB cord in download mode, connect your device to your computer.
5. You will see that there are two options available to you – Remove FRP and SoftBrick Fixer – for taking action. You must pick the Remove FRP option and then click on the Hijack It button to complete the process.
6. You have now successfully unlocked your Samsung cellphone from the FRP lock.
And that was the end of it! I hope that you can effortlessly overcome the FRP lock on your device and that you did not encounter any difficulties when using the FRP hijacker software. When addressing the SoftBrick issue on your Samsung smartphone, you may also utilize the FRP hijacker tool.
FRP Hijacker Best Alternative  iToolab UnlockGo for Android
If you need to find the best alternative to the FRP Hijacker Program, it is advised that you have the iToolabe UnlockGo(Android) tool installed on your computer first. It is a powerful tool that may assist you in removing Android passcode, pattern, and even fingerprint lock that has been enabled on your Samsung smartphone. The most significant advantage of utilizing the application is that it allows you to unlock early Samsung devices without worrying about losing data. However, it is presently only accessible for Windows; a Mac version will be released shortly. Below is a picture of the tool arrow
Is the FRP Hijacker v1.0 for Mobile Phones available for free?
Yes. GSM haggard provides the FRP Hijacker v1.0, and you do not have to pay anything to utilize it on your PCs. There are no upfront or in-app purchases required to eliminate advertising or unlock extra features. In addition, there is no advertising in the show. It's free and clean.
Is it safe to use the FRP Hijacker tool for Computers?
Yes. The FRP Hijacker Tool is entirely secure for your PC or laptop and your mobile devices. There is no harmful code in the software, and it is suitable for users of all ages.
How often is the FRP Hijacker tool updated?
GSM haggard does not have a set timetable or timeline for updating the FRP Hijacker tool. When necessary, updates Are given to iron out any problems and enhance performance. Samsung provides all updates.
Do you need an internet connection to use the FRP Hijacker tool?
Yes, your computer/laptop needs an active internet connection to use the freeze tool for mobile phones.
Readme Once:
Virus Status: Before uploading the FRP Hijacker v1.0 Tool to our site, We tested the virus with Kaspersky Antivirus.
Download Latest Samsung USB Driver: Please visit our Download Section page to seek the latest Samsung USB Driver.
Samsung Firmware: Go to the Samsung Firmware page if you're looking for the official Samsung Stock Firmware.
Samsung Combination File: Go to the Combination File page if you're looking for the Samsung Combination File.
Other USB Driver: Other USB drivers for connecting your device to the computer are available, such as MTK USB Driver, Qualcomm USB Driver, SPD USB Driver, and Huawei USB Driver.
Samsung Flash Tool: If you want, you can flash on your smartphone with the Samsung Odin Flash Tool, Z3X Samsung Tool Pro, and Octopus Samsung tool.
Hot-linking Not Allowed: Use the page URL to share the above driver with your friends or on any website or forum. Please do not use the direct file link since it will take you to the homepage of this website.
Important Notes!
Bestflashfile.com is not responsible for any damage that happened to your device(s) while following this guide, so please proceed at your own risk. However, we would be pleased to assist with any issues that are within our capabilities.
Request:
If you find any of our files or tools are not working correctly on your mobile phone, contact us and tell us about your problem, we believe we can solve your problem as soon as possible. If you are looking for any firmware, Stock Rom, or flash tool not listed on this website, You can report it from the contact above. We will upload it to this site as soon as possible.